Details

This Link Hits: 147138
House Mandir/ Temple information from SubhaVaastu.com a Free Vastu Shastra Website from India
How to place god at pooja room or in home temple, here is some narration, is your pooja room is expertly designed, please do send photos to us, we will publish here and many other visitors may also follow it. It will be more credited to you.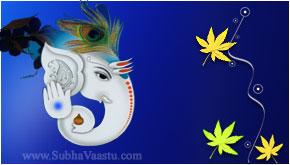 Vasthu Pooja Room | Northeast | Gods | Temple | Mandir: Generally every body is having a doubt that the pooja room should be at Northeast corner, as same has been several times informed by our elders also, what is the logic behind it. Now it should be clarified, otherwise so many are doing a great mistake. Now we will discuss about the importance of the north east corner.
You can ask the elders shall we built a room at northeast corner for reading purpose or dining hall, immediately their answer is "No" , please confirm it, some elders say "Yes", now the exact answer is you can build the room but with conditions, so in the first page of this pooja room matter (Click here) we clearly mentioned that you can build the pooja room but with some conditions. What are those conditions, now we will discuss about it. Now we will discuss the Northeast corner room issue with image help.
In this image you may clearly observed that the pooja room is at northeast corner in the house, shown with red colour/color, the pooja room should not be constructed like wise, but most of our elders says that pooja room should be at this corner or at this point only, now its the right time to explain the facts about this corner. The north east corner is a very delicate and it can't bare heavy weights, that is why we must give more importance on this North East corner. In the name of Pooja room we should not construct any obstacle type portions at this point, but there is one method to construct the pooja room at this portion, how it will be
Please see the below image.
There is a logic in this type of construction, we have to observe number of times about this image for better understanding, then only we know logic, any way extension of the Northeast corner is auspicious, now you may construct the pooja room at that extension portion.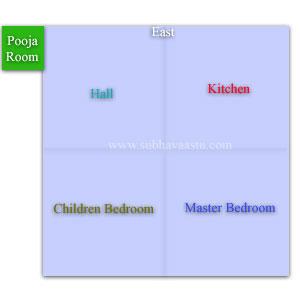 Observe this image :
Residents should reach this pooja room from inside only, not from out side, if there is no passage from inside that is also wrong. Northeast corner is extended, so here also you may happily construct the pooja room. This is a very simple logic. Extension and that to Northeast corner, its a auspicious place. In this house the extension is exactly towards Northeast corner. This is excellent.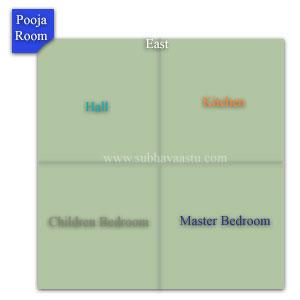 Observe this image :
In the above image the extension is towards Northeast-East direction, this is also a good development, at this moment you can plan for pooja room at this portion.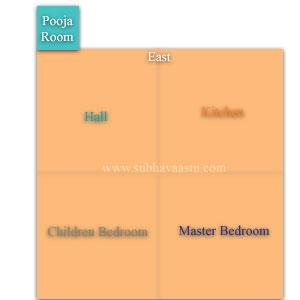 Observe this image :
In the above image some body planned to placement of pooja room at East direction towards North east corner, but this is not good. Why ? ..in the above home the northeast portion is disturbed in the name of pooja room. Already we discussed about this northeast portion and disturbance of northeast portion. But our elders says that we have to construct the pooja room only at northeast corner, now check once again, then you will get more information on this issue. Now we are discussing why our elders says that "POOJA ROOM SHOULD BE AT NORTHEAST" the reason is very simple, now we are again discussing this issue with images.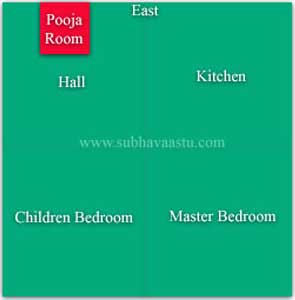 Observe this image :
For the next generations security and bright future our elders made some rules and principles, out of them vastu is also one subject. In this subject they have indirectly mentioned about the northeast corner. In India, many superstitious are being built-up . For example; Sneezing at time of starting is considered inauspicious; to sit for a while and then to proceed is the usual advice. If a cat crosses over our way or a window comes across, it is taken as a bad sign. Such blind beliefs are rule us. In foreign countries, cats are domestic pets; some countries, cats-cross is considered good sign. We can't judge them. Blind faiths are faiths; meaning foolishness other words. Where people are illiterate, such superstitious prosper. Our country has many such beliefs. Our ancients, shronded some ideas in such beliefs; left side ausning burdens the heart, injuring it. Instead of telling the direct truth, they clothe it in prohibitive beliefs.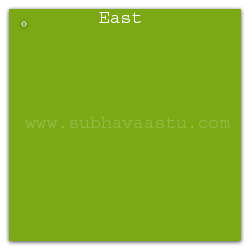 In olden days, neither doctors, nor right information were available; hence, to have a comfortable life, beliefs were built-up. They were right then; now time very much changed. Physicians or Medical shops were scarce; hence sneezing sign of unhealthiness was considered a bad sign. Such beliefs were in use as there was no other alternative – neither doctors nor shops nor chemists. For example, three in company should not go; it is likely some bad thins might have happened when there three moved out. This led to the belief that the company of three as bad. When there is lack of scientific outlook, certain happenings turned into faiths. Like wise our elders knows the value of our health and wealth, instead of telling the Northeast power they informed us by saying of constructing pooja room at Northeast corner, to be frank from ancient time to till today maximum ratio of Vastu shastra followers are "Hindus", so after our bath generally all of Hindus are visited Pooja room and doing prayers to God, if the pooja room is situated at Northeast corner, then its compulsory for evrry body to visit Northeast corner, that is the reason for placing the pooja room at Northeast corner. If every body knows the value of Northeast corner our elders may not inform us Northeast corner pooja room.
Any how there is no compulsory for constructing the pooja room at Northeast corner. Now this is computer era, for every thing we need evidence. Vision of direct Northeast from other parts of south or west or southwest, or touching of northeast is too auspicious for every body in the house. So every body must visit or pass through northeast corner, If we place one door at northeast cornered point, that will be the greatest alteration at house as per vastu shastra. So all the steps (walk) has to reach Northeast corner only. Every body in the house has atleast visit Northeast corner once in a day is the auspicious.
In this above image the foot "step" is moving towards Northeast corner, without any obstruction it reaches the northeast corner. This is called as successful walk at house. In this house there is no obstruction at northeast corner. While we construct any obstructed constructions at northeast corners in the name of pooja room or any other way, what happens please observe the below image. That is the reason our elders once again and several times clearly inform to us that before going to do any alteration its always better to consult one expert in their respective field, so that there is a chance to minimize the bad effects or to reduce the bad forces at our houses, but now a days some people unfortunately taking the wrong decisions without consulting any expert in this vastu shastra field and making some alterations, and some more people are purchasing two or three vastu books, after reading those books they come to decide some alterations, but we should note the important thing is that in the books or in any website, the author will inform the subject upto his knowledge, he don't know your house situation.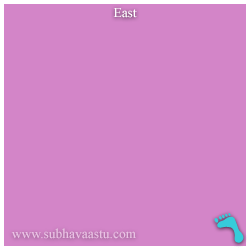 Each and every house is not same in construction type and style, every house may be in different style of construction or method. The expert will also be visit your house before saying any alteration, or he has to check your house plan, video, different angles photos, if the expert visits your property he will definitely find out the problem at your house if already there is any of that kind.
Have you observed all the above images, now you understood that some thing is disturbs at northeast corner in the above images, what ever it may be (pooja room or any other construction) it will disturbs our happy life. So its not suggested that we should not construct the pooja room at north east corner. But in some houses it will manageable, how its possible. Please have a look on this below image. Vastu shastra is a wonderful science, for each and every word of our elders was nothing but golden words. Might they did not inform to their next generations that "pooja room should be constructed at Northeast corner", instead of that, they may told like this and it has turned like so, what they told to their successors may be "god should be placed at northeast corner", this may be the correct sentence, as if the god is at one corner or at one room or at one point, it will be generally clean and tidy.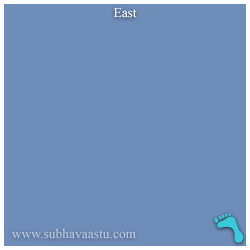 No body will dare to put waste materials at God (pooja room) sitting place in home, the main logic in this sentence is if the God has situated at northeast corner point, then all residents has to compulsory have darshan of God at that northeast corner, our elders clearly known about the northeast corner value. So we must have to plan accordingly, if the door has came into that point then definitely residents has to move from that door. "Northeast door is the clever alteration as per vastu shastra."
In this image first the steps (walks) are starts from southwest corner and they stop while pooja room is constructed at northeast corner. After that the northeast corner street focus is hitting the house, so the pooja room effect may not stop the steps, this image is only for your understanding. Now narration for this picture is: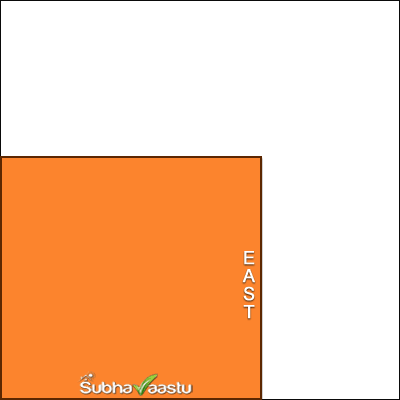 In a house there is a pooja room at northeast corner (previously we discussed that northeast corner pooja room is not good), some times this pooja room at northeast corner is not giving any problem to the residents, the answer for this is, if the house is having one northeast street focus as shown in the above image, or a pond or big sump to this house at northeast corner, or high mountained buildings at west or south directions etc, then the Northeast corner pooja room is not giving problem for this house.
Without pooja room you can happily place god at northeast corner, that is make one shelf at northeast cornered wall and place God Idols there, this is the excellent placement for God. Most of the people thought that except northeast corner there is no other corner or no such place is good for God at house. This is not correct, there are several places for God at house. Except southwest corner you can happily arrange placement for god at your house. Southwest corner is not good for placement of God Idols.
Further we have to discuss again on the top of the image that is one "red colour marked" poojaroom situated at East side in "green back ground". some times this will also gives good results, how its possible, we will discuss on this issue.
Vastu Shastra is a ocean, this is not a simple thought and easy science. As we discussed in the previous above para, this is the additional information on that issue. Northeast pooja room is not good, but here is also we discussed that the northeast pooja room towards east side is also not good, but here its not giving any bad results, how its possible, in previous image the northeast pooja room towards east side is alone, but here the pooja room is came with kitchen and dining room. So this is not wrong. Please note that the west side should also be covered with the rooms, otherwise it will give bad results.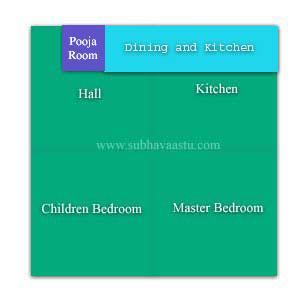 That is why in our website we strictly informed to every body without taking the consultation of expert don't do any practical. Its always better to get right suggestions from a Vaasthu Shastra expert, if you approach the expert, he will guide you the right way.
There are 4 parts in our house, one is northeast corner potion, two is southeast corner portion, three is southwest corner portion, fourth one is the northwest corner portion. Now we are in depth reaching these four portions. Again each portion has to be divided into four portions.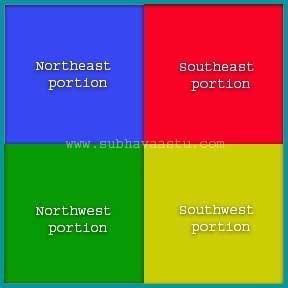 Observe this image :
In this image the four portions in the house has been divided into sixteen partitions. For every portion, in this 16 portions, every 'box house' is having their names respectively. This is important in coming links in this website, so thoroughly learnt this portions names, we clearly mentioned the individual names of this box.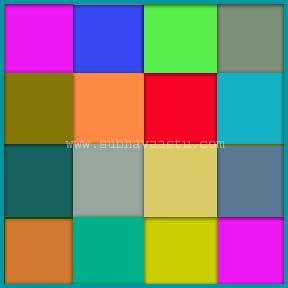 Observe this image :
Please read one more time in this box names, so that you will have some more knowledge on each portion. "northeast - northeast" , "southwest - southwest" all these are some what confusing, but this is preliminary points in vastu shastra and important in selecting a each portion of the house, say "bedroom", "kitchen", "pooja room" etc. Now we are discussing the "pooja room portion part" in the house. Please go through the below image for important placements of pooja room in the house.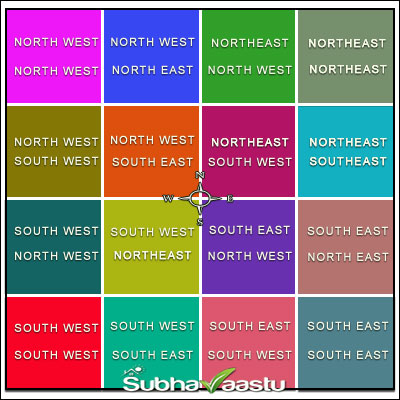 Obseve this image :
Have you observed the "right mark" and "wrong mark", here the right mark is shown with one "white colour" and the wrong mark shown with "red colour", these are the signs of "yes" or "no". In the above image also there is somesout confusing parts observed at "Northeast-northwest portion", "southwest-northwest" and finally at "southwest - southeast" portion, in these 3 houses there is "white sign and wrong signs"observed, if we want to construct the "temple" or "pooja room", we have to approach one expert vastu consultant otherwise the residents will loose some opportunities or they may get some difficulties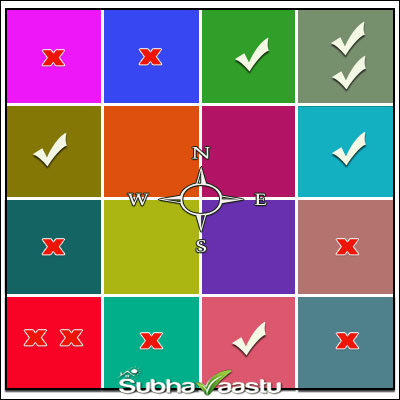 The above information is a "small part" in regarding the pooja room, we have to learn more and more in this pooja room section, so please think once on this issue, only in this pooja room and particularly on one part of the house is taking this much amount of information, then what about the other parts of the house and house vastu and finally with surroundings vastu, that is why our elders says that "Vastu is a ocean". If you feels that we have attempted to serve some thing information here, then please inform this website to your friends. Thanks in advance, Have a Great Pleasant Nice Day.
---
---
Observe the below Pooja room :
Check the above pooja room, here the residents have placed God photos on marble stone, this dais is towards West side they are standing on East side, now we are looking West here and Gods looking East. Here the dais construction is good. Observe the maintenance of pooja room here. How peaceful it is and how good attraction.
Observe the Kalasam at Pooja room, auspicious pooja methods.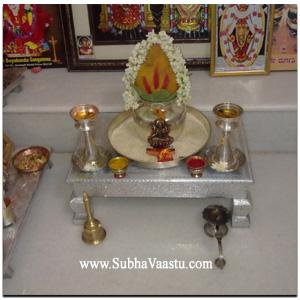 When ever enters into house, there is pot with flowers are good. Water bowl with flowers. Check this image.
This method brings you some goodness to the house. Try to follow this method, if you are running any concern, like hotels, lodges, restaurants, factory, office, shops etc, then try to follow this method. These are all attracting heavenly elements to the premises.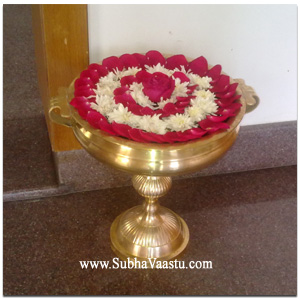 In some houses, there is no place for pooja room at that moment, try to follow this method of pooja shelf :.
This is shelf made pooja rack. You may place God idols inside and do the pooja, this is best method if you don't have place for pooja room. Check the below image when we open this pooja room shelf.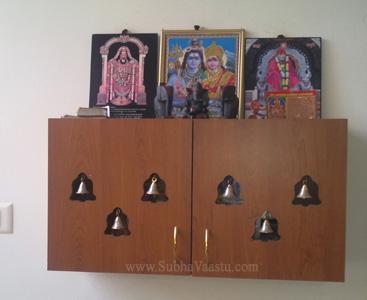 Here is the Open position :
Now check the open position of pooja shelf. In some houses, there is no space or place available for pooja room, then this is the best method for pooja shelf.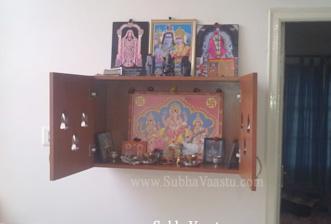 Observe some more different models on pooja shelves or rooms :
Some residents has the pooja room or shelves like this type, you may try like this. We are also recommending people to go with wall mounted shelf as pooja place. Now a days we don't have more space to provide pooja room, if you are thinking about pooja room and no space for providing to it then you may try for this system/method. This is purely wood made with rose wood, one of the rich wood and costly one. Observe the below image when this room or shelf is in open mode.
Now observe in Open mode :
Now check the inside pooja room or shelf, we cannot say it is the pooja room or shelf, rooshef may be suitable to this model. No sitting space, but wide space for God Idols. Shortly we will submit some more pooja rooms for your kind information.
Can we put Yantras in pooja room :
Here some body put two yantras in their pooja room and doing pooja to them. No need to comment on which yantras they are, why they put two yantras etc. Our subject is whether keeping yantras at Pooja room is permitted or not. Yes you may keep Yantras in pooja room and do pooja.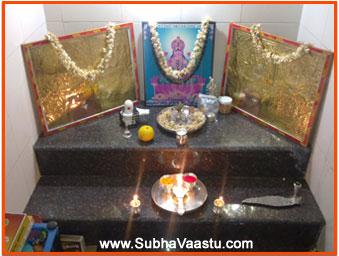 Another Pooja room Model :
Here is one pooja room, it is very clear to check the "Mandahasam" or some may call as "Mandahasa". This is not structure, but its a pooja room, due to this room is not disturbed with construction. This shows just like a wood partition and looks good and brings spiritual thoughts.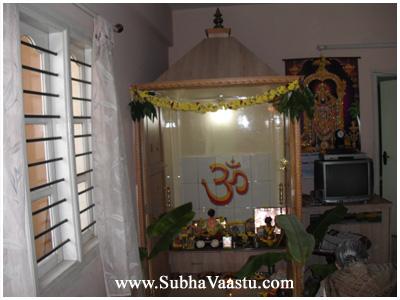 Observe this image :
This method of keeping a wooden type box is good towards any direction and keep God Idols inside and do pooja.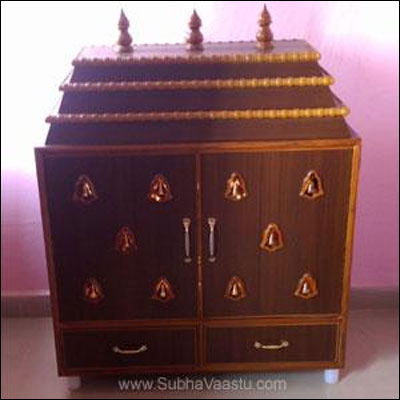 Observe this image :
Have you checked the above image and this image, hope you got the point now.
If you are giving respect to God in your house, heavenly powers will blessed you. Daily offer some prasadam to God who sits in your house. If there is no prasadam, offer your routine daily food to him first and then only take it for consume, it is also prasadam for you.
Chanting Om or any auspicious mantra keep the entire place a holy feeling structure. Try to arrange one chanting box in your mandir.
Regularly clean mandir, better to do cleaning the idols once in a week. Saturday is good for doing all these performances.
Respect your parents, respect God, respect your master finally super natural powers will respect you and blessed you for your happy future.
Offer some money or keep some thing in "Hundi" periodically finally one day utilize it for any temple development.
Annadanam to needy at your house premises brings cheers in your life.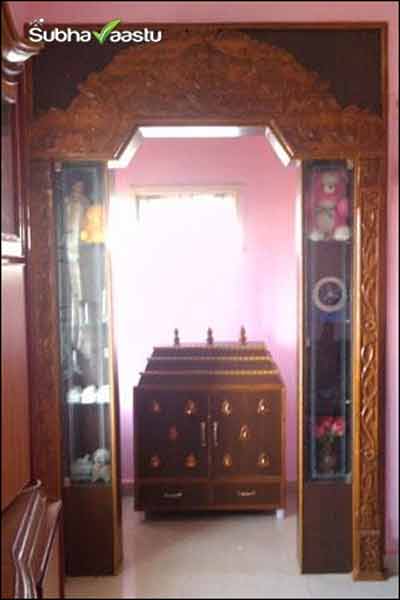 Please share your home pooja images with us, we will publish at our (your) website. Your images may be helpful for the visitors. Many may understand how to do the pooja or keep God in their mandir.
Do you have any pooja room models, please send to us, we will publish here, visitors will get more information and they will follow your style of pooja room. Your name will also published here.
Dear Sir, I have moved into a flat and there is already a cupboard in the NE corner it is a bed room . Can we convert half of it into a mini temple , and if yes should it be on top , middle or lower portion . I am unable to seat on the floor due to a stiff back. There is no other place except the store room in the south, balcony in the north. Roop Krishen - Ahmedabad - Gujarat - India.
If you want to keep God idols in that cup board, then entire top should be free, the bottom may be used to keep any God Pooja items. You may keep God idols at your eyes parallel level cup board shelf. 4 to 5 feet height is good. Some body keeps at 6 feet height also according to their body structures.
Can we keep Pooja Mandir at Balcony :
Unfortunately now a days we don't have much availability space to construct pooja room in our apartment flats, due to this we should invent some place where we have seen an additional one for God. Its our fate now. God has given evey thing to us, but we don't have space to spare some location area to them. Its only because of increase in population. If the balcony is free and not used for any cleaning utensil purposes then make some space here for pooja room, please note that the entire balcony area should be free, it should note used for any clearning purposes like washing cloths or cleaning utensils etc. Also please observe if your upper floor is having any toilets or bathrooms on their balcony then don't plan pooja room here. If their balcony is kept only for sitting purpose then you may definitely go to make this place for temple room.
If you have such temples at balcony, kindly send photos to us, we will publish them here. It may be useful for others. Service to humans is nothing but service to God.
Can we place Puja temple at Kitchen :
Now our homes became very smaller and smaller than before, most of us are accustomed to live in apartment flats, in this scenario, we may not provide a spacious room for pooja or god or prayer room. Though its our bad luck but we have to search a good place to keep God idols at ideal place. We can keep God idols in Kitchen. Now many residents are following such system, we don't have any other option. You may choose two places to keep Pooja mandir at Kitchen, one is Northeast corner and another one is Northwest corner in Southeast kitchen. These two are ultimate standard places. We generally prefer to place God idols at Northwest corner by making one puja mandir for Southeast kitchens.
Here some body may have some doubts, some people are used to prepare non-vegetarian food at their kitchens, if we keep puja mandir in kitchen is there any problem?. We can't hide any facts before God, almighty knows every thing. So you may place one door to this pooja mandir and prepare your non-vegetarian food. Door is not possible then you may used to keep one curtain to the pooja mandir. We cannot obstruct any body not to consuming non-vegetarian foods at their homes, many people are often to consume non-vegetarian foods at their homes. Its their interest to have such foods in their homes. Its their interest. Here please note that God always likes cleanliness. So one should conscientiousness in paying proper attention to make entire home in appropriate high cleaning and particularly in kitchen when puja mandir is placed in kitchen.
---
---
May I know the furniture settings in my living room?
Would like to know some house designs according to vastu shastra?
In my kitchen the sink is towards Southwest, is it creates any problem?
Would like to get some tips on construction of house according to vastu shastra?
Some body says that doors in houses like 3, 7, 10 numbers are not auspicious, is it?
I would like to download Spiritual God wallpapers, which link is provides such images?
In my sister house, the water sump is towards Southwest area, i there any solution for this problem?
---
---
Reviews on Vastu Consultant Services Website SubhaVaastu.com
We are Software Professionals in USA, Initially to buy a home we searched internet, sent floor plans to India, then one of my friend suggested subhavaastu.com site, I was very impressed going through the site ,lot of information was provided, I contacted immediately Suresh garu for consultation. Being so busy he always responds to my emails and phone calls, clarified my doubts, He is so expert in giving consultation to USA properties. I feel him like a family member very frank, genuine and most of all patience. He do have immense knowledge in abroad properties, Indian properties by default. Anyone can give guidance, but he gives consultation with practicality not just some text book guidelines. He knows in and out how the structure, layout works and will give simple alterations, genuine Consultation. I have to salute to the tremendous work and efforts he puts in subhavaastu.com site - Sangeetha - New Jersey - USA
The website Subhavaastu.com is very informative.Sureshji, the founder of this website is according to me a great ¨human who has vast knowledge in vastushastra and his kindness to his clients are appreciated. He listens to his clients problems patiently and gives the appropriate remedies. His main motto is good service and he responses as quick as possible. I spoke to Sureshji as a stranger only, but after one phone call itself , I started feeling that he is a caring well wisher for whoever asks his help. He is a genuine person. He doesn't force you to spend money in the name of vasthushastra, he explains clearly where the problem is and tries to give very easy changes to have a peaceful life. Sathya Priya - Switzerland.
We stay in USA, I was initially Searching Google for some vastu help,one of my friend recommended subhavaastu.com website. Very useful information indeed, I found lot of good and valuable information, as got more motivated I contacted Suresh garu through phone. First I would like to mention he is a such a wonderful person, talking to him is like reading different knowledgeable books, he is a mobile Library always with a patience, a kind heart. He being so busy attended my each and every call immediate response to emails and clarified all my doubts. Especially I am amazed with his knowledge in vasthu with USA properties,its easy for some vastu specialist to tell vasthu with standard guides, but Suresh garu tells vasthu according to the place and country. My sincere suggestion for all the people who are wandering for a good Vaastu person or site, www.subhavaastu.com contact Suresh garu take his consultancy - Sarvani - Massachusetts - USA.
Our recent interactions with SubhaVaastu and Sureshji have not only been insightful but also extremely educational. Having a home is a matter of great virtue - having the home Vaastu compliant ensures that the investment and the future of the family in the home is secure and ensures progress. Having gone through the website gave us a tremendous amount of insights on bring about improvements to enhance positive energy and ultimately ring in progress. In the US, most home builders do not consider Vaastu and hence most occupants/ home owners are unaware of the benefits. In my dealings with Sureshji and the website, I have found insights and resources that can be helpful for almost everyone in the US. I highly recommend Subhavaastu and Sureshji to the broader NRI community. I wish SubhaVaastu and Sureshji the very best. Regards - Sneha - Florida - USA.
Announcement
This is the right time for us to spread the knowledge to our sweet society, come and share your thoughts to serve better for our next generations. Your services are highly required to make our society more stronger. Let us know what you are looking here, we will do our best to respond immediately
---
Kollam people faced many troubles with fire mishap, here is our free services to Kollam District Kollam Fire Accident
---
120 days FREE services to Chennai People Successfully completedChennai Rains
---
Spiritual Wallpapers
---
Hindu Desktop Wallpapers
Hindu MOBILE Wallpapers
Islam Wallpapers
Christian Wallpapers
Inspirational Quotations
In any situation, the best thing you can do is the right thing; the next best thing you can do is worst thing; the most worst thing you can do is nothing; don't sleep, always try for the best to acheive targets - Theordore Roosevelt.
---
"Great minds discuss ideas. Average minds discuss events. Small minds discuss other people." ― Sherrilyn Kenyon . . . Let you question yourself, "Who You Are"?
Joke Of the Day
Three guys are stranded in a desert. By a stroke of luck, they find a magic genie lamp. The genie grants each of them ONLY one wish. The first guy wishes to be back to home. Genie granted his Wish. The second guy wishes the same to go home, his wish also granted. The third guy says, "It feels very lonely here now, I wish my two friends were with me…" genie granted his wish also.